Educational 'Equity' Consultant Advocates Burning 'Most Books Used In Schools'
Date: 12/01/20
College Fix
"Stop using white history, white mathematics, and white science as the foundation."
The notion of burning books is, or should be, quite repugnant to those with an interest in maintaining a free society.
Whether it's environmentalists setting ablaze a book which challenges man-made global warming theory, or conservatives putting flames to a progressive's anti-white-themed offering, never should Ray Bradbury's warning of Fahrenheit 451 be forgotten.
But in "equity" consultant Kimya Dennis's case, she'd likely shrug off that notion — because Bradbury was a white man.
In a now-deleted tweet from January 8, Dennis boasted that in her trainings and presentations, she requests "most books used in schools be burned" … because white people: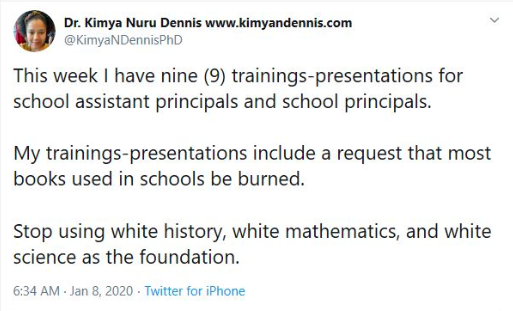 In fact, Dennis's entire Twitter account now has been deactivated. You can still read her archived tweets, however, in which she routinely advertises her services for "REAL equity and REAL justice."
In one brief thread from earlier this month, Dennis claimed black students, both male and female, "feel empowered by talking trash to faculty and staff."