UK Environment Minister Warned: Climate Change Threatens More Dry Winters
Date: 09/02/14
The Guardian, 12 March 2012
March 2012: UK Environment minister warns climate change could mean winter drought is "the new normal." UK drought summit highlighted threat posed by another dry winter.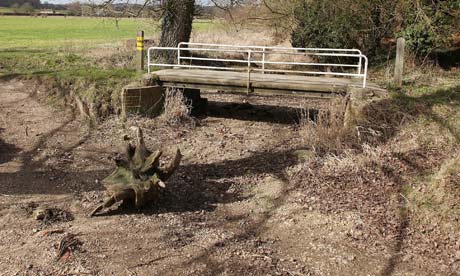 Winter 2012: The drought has caused the river Pang to run dry from Bucklebury in Berkshire to its source seven miles upstream. Photograph: Thames Water/PA
Hosepipe bans and other water restrictions may be imposed as far north as Yorkshire this spring if the prolonged dry weather continues, the Environment Agency has said.
Water companies in the south and east of England have announced hosepipe bans, which will be enforced within weeks.
Areas as far west as the borders of Wiltshire and Hampshire may also be affected, despite plentiful water supplies in Wales.
The south-east of England and East Anglia are already in the grip of the UK's worst drought in 30 years. Seven water companies have indicated that they will impose hosepipe bans. Most will begin next month, but some could start earlier […]
Urging people to save water, Caroline Spelman, the environment secretary, said a recent drought summit had highlighted the threat posed by another dry winter and more areas were likely to be affected unless there was significant rainfall in the coming months.
"We can all help reduce the effects of drought by being smarter about how we use water," she said.
Spelman has said that climate change could mean drought is "the new normal" and has urged water companies to produce long-term plans for saving water  […]