Syria's Civil War & Climate Change: Not That Simple
The subject of climate change-driven conflict is hotly debated in scholarly circles. The sparring got so contentious a few years back that one academic called for peace.
This week a study published in the Proceedings of the National Academy of Sciences (PNAS) received widespread media coverage.  The paper's takeaway was tweeted by all those reporting on it.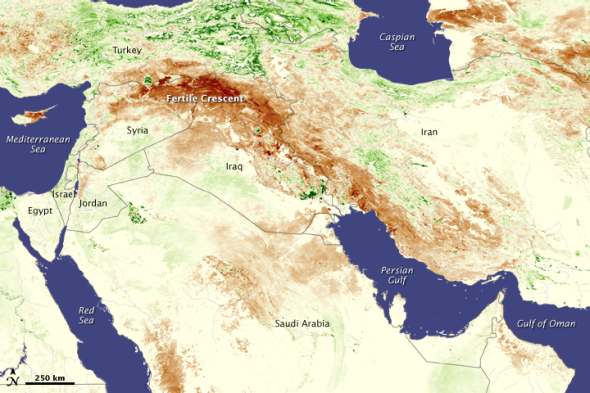 That's just a small sampling, but you get the picture. Now before we go any further, it's important to note that this asserted climate change component to the Syrian civil war made the rounds in 2013, argued most strongly by a Washington D.C .-based think tank. It got more play last year after Showtime's Emmy Award-winning documentary on climate change did asegment on the Mideast, featuring a famous globe-trotting New York Times columnist.
One scholar/journalist with an expertise in Middle East water issues and who lived in Syria between 2006-2010 has countered:
focusing on external factors like drought and climate change in the context of the Syrian uprising is counterproductive as it diverts attention from more fundamental political and economic motives behind the protests and shifts responsibility away from the Syrian government.
Similar points were made in this 2013 paper by two other researchers:
While invoking drought as a destabilizing force in Syria is intuitively appealing, it overlooks the ways political and social structures determine the impact of environmental pressures. When one delves into the details, drought as an external factor recedes and political economy takes center stage.