Oil Slumps to Lowest Since 2003 on Global Recession Threat
Date: 18/03/20
Bloomberg
Oil extended its slide to the lowest level in almost 17 years as the coronavirus pandemic threatens to bring the global economy to a standstill, battering demand just as supply explodes.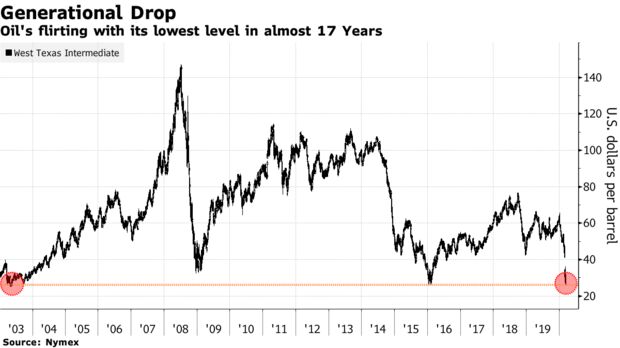 Futures in New York fell as much as 4.2% to $25.83 a barrel, the lowest since May 2003, extending losses this week to almost 18% in the most volatile trading on record. The last time crude traded near this level was when severe acute respiratory syndrome, or SARS, hit Asia.
While policymakers around the world take unprecedented steps to shore up their economies from the fallout of the virus, the meltdown in crude demand and concurrent supply free-for-all by the world's biggest producers continue to pull prices down.
"I don't think we have hit peak demand devastation yet," said Stephen Innes, Asia Pacific market strategist at AxiCorp, who predicts oil may fall to $18-$20 a barrel. "If cases exponentially increase, especially in the U.S., its going to spook the hell out of oil traders."
The market is finding little succor in global efforts to stem the economic fallout. The U.S. Federal Reserve on Tuesday announced the restart of a financial crisis-era program in an effort to stem the economic impact from the virus. While U.S. stocks rebounded from the biggest rout since 1987 on the plan, oil continued its slide as Saudi Arabia signaled its intention to ship a record 10 million barrels a day in April.
West Texas Intermediate for April delivery dropped 80 cents to $26.15 a barrel on the New York Mercantile Exchange as of 8:20 a.m. in London. Brent crude fell 31 cents to $28.42 on the ICE Futures Europe exchange after slumping 4.4% on Tuesday.
U.S. gasoline prices recovered some ground after the biggest daily drop on Monday since 2005. The motor fuel was up 1.8% at 72.41 cents a gallon on Wednesday.