EU Lawmakers Divided On Reform Of Emissions Trading Scheme
Date: 29/09/16
Ewa Krukowska, Bloomberg
European Parliament lawmakers presented differing visions for Europe's carbon-market reform in a signal to investors that an overhaul of the ailing cap-and-trade program after 2020 will likely require months of further political bargaining.
Members of the assembly's environment committee commented on some of the more than 700 amendments submitted to a proposal put forward by the European Commission last year, before nations across the world reached in December in Paris the most sweeping deal so far to combat climate change.
Some of the lawmakers want to change the commission's plan in order to enact even faster emissions cuts in Europe and curb oversupply in the market, which added to an 80 percent drop in carbon prices in the past eight years. Others aim at protecting the industry from what some politicians fear could be an excessive rise in pollution costs in the next decade.
"It's not at all a done deal that we'll see more ambition," Philipp Ruf, lead analyst for EU carbon market at ICIS Tschach Solutions, said in an interview in London. Disagreement among political groups in the EU Parliament and national governments means that a final deal on the draft law is unlikely until near the end of next year.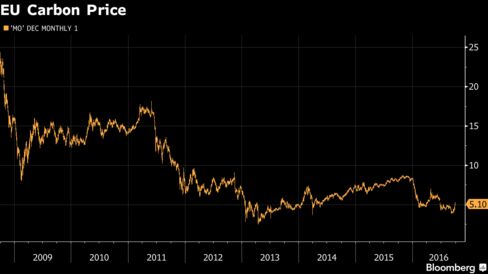 Benchmark carbon allowances in the EU market, the world's biggest, rose 4.4 percent to 5.17 euros a metric ton on Thursday at the ICE Futures Europe exchange in London. That compares with the range of 25-30 euros envisaged by lawmakers when the rules for the 2013-2020 period were established last decade.