British People Among The Least Concerned About Climate Change
Date: 29/01/16
Harry Lambert, The Independent
In a survey of 17 countries, the people of Britain has ranked 15th in its concern over climate change.
The UK, US and Saudi Arabia are the three countries least concerned among the group surveyed by YouGov. Only 10.8% of Britons ranked climate change as their most important issue.
Hong Kong is the most concerned, with 20 per cent of those surveyed choosing the issue ahead of eight others.
The Scandinavians countries are also among the more concerned.
They – and the Chinese, the French, the Germans, the Indonesians and the people of the UAE, among others – all care more than the British.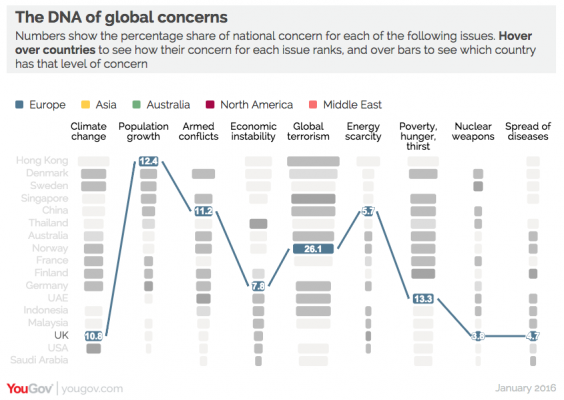 Relative to other countries, Britain cares more about terrorism, population growth, armed conflicts, economic instability and energy scarcity.
In absolute terms, climate change ranked fifth as an issue among Britons.